Posted on 1/28/03

NORTHERN PORTUGAL
November 20 to December 11, 2002

In this chapter we spend times with friends, make new friends, catch pickpockets, lose our computers to thieves, get a traffic ticket and make a big change in direction and plans. You will get a good look at Northern Portugal from our perspective and the pictures speak for themselves.

November 20-26, 2002
A Polish Portugee and Pickpockets

Franklin and Aura were arriving at 10:30 PM. We decided that we would surprise them and show up with Lil' Scotty to pick them up. A great idea but we would need to explore the route in the daylight to make sure we would be there for the surprise. What an interesting afternoon. For the first time we drove to the big shopping center rather than taking a bus or walking. The traffic was lined up and grid locked at least a half-mile from the place. We could have walked there faster. Drivers were very patient and courteous. They must be used to the crush? The problem was that the parking lot was full so they only let a car in when one would leave.

*(To see Franklin and Aura in San Francisco go to Journal 1)*

Another learning experience, when we tried to exit the gate wouldn't accept our parking ticket. We thought that the first 2 hours were free. As cars lined up and waited impatiently the attendant finally walked across all the lanes and looked at our ticket. In his best 12 words of English he got the point across that we hadn't paid. Then he added to our embarrassment by making all the cars back up so we could move out of their way. Only a few honked during the process and that is strange because the Portuguese are incessant honkers.

Finding the Airport was fairly simple but we had no idea how we had gotten there. After circling the place twice we tried to back track and failed. During the process we discovered a fairly simple way to get back. We walked to dinner then chatted with our friend, the night clerk, Jose, as we waited and tried to stay awake. Finally at 9:00 PM we rolled out into quiet streets and directly to the Airport Parking structure.

The wait was even longer than we had anticipated. The plane was a little late then it took almost 45 minutes for them to clear immigration. I even had to drink a cup of coffee, something I never do at night, in an effort to stay alert enough to drive.
Finally they walked out and were genuinely surprised. At least Franklin was, he had bet Aura a dollar that we wouldn't be there but would wait at the Hotel. Jose and Franklin hit it off immediately. We think Jose got a kick out of Franklin's learning level of the Portuguese language. As the name, Zawacki implies, Franklin's Father was Polish. What we didn't know was that his Mother's family had immigrated from the Azores, she was Portuguese. He could remember his Grandfather speaking the language and had decided as only an academian can, that he would master it while in the country.
Yes, Franklin is a teacher and consummate student. He thinks of himself as a Poet and Writer. We know him in his artistic mode as a lover and promoter of Cajun and Zydeco Music. He has been promoting Festivals for more than 20 years. He is very frenetic at times then introspective and quiet. He seems to soak things up as he observes and will often just sit down in a doorway or on a bench and pull out his loose leaf to make notes. Aura knows him well and usually knows how to adjust to him. She can get upset but constantly reminds herself and anyone who listens that she knew all this before they married. We think they love to banter as much as they love to dance. She says, "He dances to his own drummer."
Unfortunately Franklin's back began to ache on the flight and it would only get worse. He tried hot baths and stretching but they only seemed to exacerbate the problem. In fact he spent most of his first day in Portugal, in bed. This had a major effect on our plans. Instead of exploring the coast we went to the shopping center with Aura in tow. She stayed and shopped around then found her way back on her own, on the bus. I have some Vioxx on board and gave one to Franklin. They are painkillers that are fairly gentle on the stomach.
We did the sight seeing of Lisbon the next day. In fact Cat and I felt like tour guides. We visited all the high points including St. Georges Castle again. We took the cable car up and down the hill to avoid making Franklin walk. On the descent we ran into a traffic jam. The cars were lined up so we asked if we could jump on board the leader. Others kept falling into line behind us and just sitting and idling. Finally our driver took the bull by the horns and moved forward. In just a couple of blocks it became obvious what the hold up was. We met another car going up hill and there was only one track. They decided that he should back down. Then the problems increased, they couldn't get the switch to operate by hand. It took several of the drovers and a big crow bar to finally get things moving again.
We took a bus from the square downtown and went directly to Amoreiras to check e-mail and pick up food and fruit. Franklin eats fruit by the bag full, daily. After our Net Cabo Internet fix we were cast out into rush hour traffic. The bus was so jammed that we almost didn't get on board. In fact after the other three we in it started to look like I would be left behind. A friendly looking guy extended his hand and pulled me up onto the stairway. I wiggled down the aisle a couple of feet and huddled with our group. Suddenly Franklin staged an outburst. He began telling Cat to put her packages down and protect her wallet then he yelled out pickpockets. I thought he was just warning that this is the kind of place where they would be most effective when a shifty looking guy with a hat out of a 1940s gangster movie began to push against me and shout Rato, Rato in my face. I thought he was trying to get by so I pushed back and said, "I get off at Rato, too." The words didn't seem to sink in and he shouted again. As he did I felt my wallet being pulled on? I have always felt fairly pick pocket proof because I wear the wallet on a strong string around my neck. When I glanced down as the Rato looking guy kept pushing I discovered the nice guy who helped me board had it half way unzipped and his fingers were inside it.
I dropped the bags of groceries on a little shelf and shouted as I grabbed for him. He pulled his hand away but I got a good grip on his throat. The Ratso guy skipped past us and was at the door when it opened. I held on tight to the other guy's neck. The commotion was causing a big stir among other passengers. Suddenly a woman, obviously the third member of the team, began hitting me on the head with her umbrella. Franklin stomped on her foot twice and exercised his Portuguese language skills by yelling "Desculpe, desculpe," or something close to that as he stomped. (Desculpe means Sorry or Forgive me.) The friendly guy slipped my grip. Both he and the woman ran out the door as the bus pulled away from the curb.
It was an exciting moment. We had foiled them completely. We would later laugh as we thought of them back at their home hideout. Imagine thinking you have some easy marks then being foiled by a very perceptive guy like Franklin. Then going from bad to worse as another old guy grabs you by the throat while his vocal friend stomps your girlfriends foot and yells, "Excuse me, excuse me" while he was doing it. We decided that they would drink their wine and think about a career change. Again, my belief that some good comes from all things was to prove true here, too. A young girl, Lea and a younger friend who she was accompanying home from a music lesson had witnessed the event. She was very talkative about it and told us that her Mother was born in Canada. She has visited relatives a few times there but is defiantly Portuguese. She has since become an e-mail pal.
Franklin went out walking the streets and absorbing after we got back to the Hotel. Aura joined us in our room and we enjoyed an intimate conversation wrapped around meat, cheese and wine. Designed to be just hors d oeuvres, when Franklin finally ambled in we decided that it was dinner. They brought all the leftovers and a bottle of red to the party and we just snacked and talked.
He had a great story about seeing a Police Office, going inside and in his slowly growing Portuguese vocabulary, explaining what had happened to us on the bus. He said they were thankful for the information but didn't think they would ever catch the bad guys. We just had to hope that our joke about them quitting the dirty business would prove to be true.
The next day was another lazy one. Franklin could barely walk and it was pouring down rain. We sat around, talked with Aura then the three of us went back to the shopping center. She picked up a few more food items while we got our daily fix at Net Cabo. We held an abbreviated picnic in the room again then went back to the wonderful Restaurante Urso for dinner. We had a terrific time. Owner manager, Jose Leal and his partner Marta were terrific hosts. They remembered us and treated us like old friends. The young girl and boy working there are relatives of Jose or Marta and boy friend/girl friend. A very cute couple.
Jose had invited us to his place for dinner but we had avoided the decision pending Franklin's back problem. We decided to accept and if he felt bad just the three of us would attend. It was a generous offer that we didn't want to pass up. We let him know when we got back to S. Mamede. He was just as jolly and positive as ever. When I asked about bringing something he was almost offended.
One of the things that Aura wanted to do here was go to the Flea Market. It was a Saturday morning event. After soul searching and walking to the Rato Station we decided that we didn't really know how to get there. Aura finally tired of the map reading and hailed a cab. The driver and Franklin struggled with a conversation as he drove. He got the wrong market place but did give us a good tour of the city as he made his way back across town. Franklin said that he had negotiated a fixed fee. The cost was only 5€, a bargain. We even tipped him.
The Flea Market was pretty much the same old junk. Aura had hoped to find some jewelry or other antiques. We walked most of the area. There were some obvious good deals on cell phones. Guys stood and opened bags or openly displayed dozens of them at cheap prices. Were they hot? We thought so but when the police walked through they made no effort to hide them?
The best of that trip was a tour of the nearby Panteao Nacional (National Pantheon). It is similar to the one in Paris, France. Lots of marble and crypts in memory of, or full of famous dead guys. Well dead guys except for one, a woman who was just interned there in 1999. The first and only woman to be afforded the honor was a singer. Not just a singer but the most popular Fado Singer for three decades in Portugal. Amalia, as she is known, was born and raised near Lisbon. She was considered a National Treasure. Hers was the only crypt with fresh flowers, roses, on it.
Back at S. Mamede, the Zawackis chose to nap while we went to the Amalia Rodriquez Museum. It is her home, the house she lived in for at least 45 years. Finding it wasn't as easy as described in the guidebook. I stopped a guy on the street and asked only to have him shrug and walk away without a word. Another small, very thin guy stepped up and said, "I can help you." Instead of just telling or trying to give us directions he asked us to follow him. When we arrived I had already decided to offer him a reward, he may not have known that so he asked by indicating that he needed food. His story was that he was from Angola and had been in an accident. He was staying in a hospital, healing. I thought the trip and conversation in sign language was a bargain. We thoroughly enjoyed the museum and the girl who accompanied us. She wasn't the English language guide and kept telling us that as she explained small treasures and secrets of the place. It was obvious that she loved her job and Amalia. We even bought a two CD set from her.

After our daily fix at Net Cabo and picked up a couple bottles of wine to take to Jose's. We rode the bus back and looked for pickpockets. Funny how paranoid we've become. At the Hotel, we rousted Franklin and Aura out of bed. There was some doubt as to whether Franklin would go with us but he felt a little better and didn't want to miss the fun. Life seems to always be fun around Jose.
As planned, Jose picked us up at 6:00 PM. Although he had said his place was close by it took a forty-five minutes to drive there. Partly due to his guided tour of the coast and the area that had been redeveloped two years ago when Expo 2000 was held there. He lives in a condo that he owns with his friend Ruth and her daughter Christina.
We sat in the living room and talked, laughed then enjoyed chorizo heated over a flame in a unique clay dish. By the time we adjourned to the dining table Christina left to go dancing. She is 22 years old, works and helps out around the house. She and her Mom, Ruth are from Brazil. They say all Brazilians love music and dance and they are no acceptions. Christine says the bands don't even start to play until midnight. The parties are often all niters.

Speaking of all niters, Jose works all night, six nights a week. He has only been at it for three months but it suits him well. Of course he is great at it, we're not the only ones who love him there. Part of his charm, of course, lies in the way he speaks English. His accent and ability to understand are both assets. He likes it because he can get three or four hours sleep and it keeps him off the streets and out of trouble. He's only 55 but has a pension from his career in ocean going ships, both commercial and pleasure cruises. (We all bet that he was a real charmer on the Cruise Ships.)

Cookin' With Fire??
Although Jose is a chef he watched along with the rest of us as Ruth prepared and served. (The main dish was a wonderful chicken. Cat has the recipe and will share once she gets the recipe translated.) It was great and the free flowing wine added to the ambiance. An evening full of laughter and fun ended with a Mr. Toads wild ride back to the hotel. Jose probably should have packed us into a cab but he wouldn't hear of it. Franklin held on for dear life and covered his ears because Jose had the stereo cranked up to full volume.
It was Sunday, and Franklin was at the front desk much of the day. He is hurting so badly that he wants to leave a day early if he can change the flight. We went out for lunch together then at our urging, they walked to Amalia's Museum while we checked our e-mail and picked up picnic supplies. Franklin had been successful in his effort to change their flight so we just sat in the room, talked about the fun we had had together and snacked. It was an emotional moment when they started toward their room. We all hugged and talked about when and where we would see each other again.
Monday November 25 to December2, 2003
Stop Thief, Stop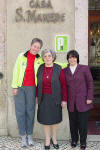 I got up and rushed down to catch Jose before he left at 8:30 AM. He confirmed that Franklin and Aura had made it to the airport at 3:00 AM. I gave him a big hug, Cat called down and said her goodbyes on the phone. He has become a true friend, the kind you hope to find on a trip like our Odyssey.
We loaded little Scotty, who had been resting the past five days, and headed north. Our original plan had been to cycle the south coast into Spain. Lil' Scotty gave us many more options. After checking the maps we chose to go north and loop into France, spend a few days in Bordeaux then cross the south of France to Italy then loop back into Spain seeking sunshine. We have started feeling more and more like gypsies or hippies. It is a freedom that adults rarely allow themselves. Cat had roamed Europe like this when she was just out of College but I only worked and had babies in my youth. I felt a strange new sense of freedom. We would be riding hard when we cycle through here so now would be the time to explore and enjoy.
It was a beautiful, sunny day. We drove along the coast and thought about our journey up Highway 1 in California. What a day, we found a place to park along the busy road. I pulled Scotty up close to a wall on the passenger side and we walked across the street to a beachfront restaurant. Lunch was good the sun was better.
When we returned, we found Lil' Scotties back window broken open. How foolish of us! We should have known better. The computers were the only things they had taken! What a tragedy for us. Not only the computers but also all our original pictures of Portugal and Scandinavia. One fortunate thing, I had made copies of the pictures we took with Franklin and Aura. They had that CD with them.
We couldn't fathom the thought that someone had stolen our connection with home and our friends that we have met along the path of our Odyssey. We walked the neighborhood but our spirits were sinking, fast. We knew that sometimes thieves run a short distance then check what they have and dump useless or possibly incriminating items. We looked in the trash and asked everyone we met. We were both sick, almost to the point of physical illness.

Our next step was to try to find the Police and get some help. Cat caught a couple of them on motorcycles and asked. In sign language they got the point across that they were traffic officers and we needed to file a report at the station in Estoril. They gave us directions and we drove straight there. The lady was very kind but not too positive about recovering the computers. Report completed, we decided to go ahead with our plan to spend the night in Sintra.
As the sun moved toward the sea, we drove up the hills to beautiful, medieval Sintra. It was dusk when we finally found a Hotel with a secure garage. We were paranoid about leaving Lil' Scotty and the bikes outside. The village was beautiful and the setting sun intensified that beauty. I deferred taking pictures because the morning light with sun from the east would be better and so would our attitudes.
Walking through the ancient streets gave us a feeling of time travel. Oh sure, there are tourist stores but when you look beyond them this place is a time machine. Almost by accident we stumbled onto a restaurant that sits on and displays through the floor, the Roman Granary that was established almost 2000 years ago. We were seated next to a table of three guys. They were speaking English but holding their conversations close to the vest. When we introduced ourselves they responded but were still standoffish. Conversation was sort of one sided. When I told them of our loss one of the guys said that he had been in a restaurant and leaned his computer against his chair when he sat down to eat. When he stood to leave he found that it was gone. Stolen right from under his nose.
A couple of other guys joined the three and they continued their restrained chatter. We began to think that they were CIA or US military, perhaps on a subversive mission? Were we just suspicious of everyone now?
Back in our room we tried to make plans. Where were we headed? What did we want to see and do? Finally, at lights out we talked about going onward to the north and into France. We needed a change of scenery, sights and sounds. We were even locking in on a wine change to French.
That night my dreams were full of intrigue and plots. There were shadowy figures that were trying to catch us. I hate chase scene dreams but I was in a major dash for safety. I hated the pursuers and tried to gather courage to turn and face them. These thieves had taken more than just computers, they had our lives and suddenly I wanted them back. Maybe dreams can guide us? I even had Terry Tintorri, our Real Estate Partner who left us in June, giving me advice in his inimitable way, in the dream.
It was clear, when I woke up that we had to do more. We had to do everything in our power to retrieve our computers or at least our CDs with the pictures and text in them. What wasn't clear when we got up was the weather. It was pouring down rain and totally socked in. So much for pictures in the rising sun.
Over breakfast we decided to return to the scene of the crime. I called our friend Jose and told him what had happened and what we were planning to do. He was disgusted with the thought that something like this had happened to us while here in Portugal. He volunteered to take us to the Flea Market on Saturday. His plan was to walk and talk to vendors there, see if we could find any of our things.
We drove back to Caiscais first, another terrific beach town. The weather took a turn for the better but the rents were too high for us there. At the Tourist Info Office in Estoril, the adjacent town, we found a place that fit our budget. Residential Smart would be our home for the next week while we turned every stone. It is a beautiful rebuilt mansion with a new addition of rooms, underground parking and a pool. We would use the parking but just look at and admire the pool. The family that owns and operates it seem naïve. They have just been open for a year so they have only experienced one season. We were usually the only guests but an American guy did drift in one afternoon. I saw him come in and asked the desk, they confirmed USA. I called him from the front desk and asked if he wanted to get together. He declined, he is only here for a week and has plans. I asked if he wanted a ride into Lisbon on Saturday. He thought he might but wouldn't commit. That was the last time we talked or saw him. I called twice and left a message at the desk. He must have been out or sleeping?
Our room was small but pleasant. The price, 49€ per day was manageable. Breakfast that was included, made us wish for Fatima's plain bread. It was a very dry roll with Nescafe instant coffee. The Father and Mother work at their own jobs, he does the yard, she directs the two girls who clean and she serves breakfast. They are both very quiet. They never speak unless we are trying to ask a question. The older son speaks some English so he became our interpreter. He too is the silent type.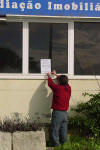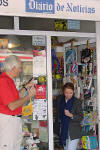 We went back to the neighborhood where our loss occurred and began talking with the neighbors again. Rose Marie who owns the newsstand helped us translate an offer of a 500€ reward for the return of the CDs with our pictures and stories on them. Our hope is that the bad guys did throw them away and someone picked them up and will see the posters. Once we had a poster Rose Marie ran 30 copies for us. We walked the area again talking and hanging the posters on business windows. Not one of the businesses refused our request and when we returned a week later they were all still there. The guy who owned the restaurant where we had eaten lunch that day was particularly angry. His place had just been broken into a day earlier. He thought it might be the same guys but he had no idea who they were.
Once we had exhausted all possible leads we drove into Lisbon to place an ad in Diario de Noticias, the largest newspaper in Portugal. I called but we couldn't get anywhere on the phone. After circling a few times we finally decided to go for something we know so we drove to Amoreiras, the Shopping Center. We found it easily but had to wait in line. The cars here just wiggle and squeeze in and out of line as they work their way around. The delay was caused because the parking lot was full. Each car in line had to wait until a car left before they were allowed in. (Parking is as tough as finding your way around.) While there we checked in to the Net Cabo Internet store for one last time.

Because of the parking problems we decided to walk to the newspaper office. It began to feel like we would never get there so we hopped on a bus. Mindful of our wallets in the crowded bus, we found that we were only two stops from Plaza Marquez de Pombal, where the Diarios de Notarios is located. The people at the front desks who sell the classified ads couldn't speak any English. After 20 minutes of struggle they called a gal, Elena, from in the back and she put the ad together. It was 100€ but it was one stone that we didn't want to leave unturned. The ad will run for 4 days. We used Jose's cell phone number in the ad and offered the same, 500€ reward. Incidentally, Jose thought it was a waste of money and time. Ultimately he was right but we had to give it a try!
There was a Chinese Restaurant just a block from Smart Residential. That night we walked there for dinner. They too were family owned and the food was great. The only other couple there, Tom and June, were British but have been living here for several years. Tom shared some of his low alcohol wine and stories of living in Portugal. We laughed and talked and told them a little of our troubles. They invited us to come by their place and use June's computer to answer our email. Of course we took them up on the offer. Tom drew a very exacting map to their place and to Manny's, their mechanic. We have been hearing a scraping sound in Lil' Scotty, especially when we turn to the left.
Although the maps were very specific we had a couple of problems. When we went to their house we missed a turn and turned into the wrong place. When we knocked on the door a maid answered. She was nervous and had a hard time getting the point across that Tom and June didn't live there. On closer inspection we realized that it was the next street up. Once there we looked and looked for number 20. We could find 30 and 10 but no 20. Then we realized that the Portuguese don't always number the streets odd on one side and even on the other. It was across from 10 and 30.

They were busy preparing a dinner for friends. They said the couple are 96 and 98 years old and really make them feel young when they get together. We spent 2 hours on her machine. She has been a buyer for many of the upscale stores and catalogs in the US and UK. She still does some work with Williams Sonoma and a couple other good accounts. Interestingly, she told us that she knew the Mrs. Smart who had lived in the old house. We thought she was mistaken but when we asked, the man at Residential told us that the Smart Family had owned the original house.
Finding Manny's place was really a chore. We found what we thought was the street. In fact it was the name of the street Tom had given us but no Manny. We called from a pay phone and his daughter tried to give us directions. We drove in circles for another half hour and called again. We were just a block from them, in fact we had driven past their place and not known it. The street signs couldn't have been more confusing.
Manny was just as great a mechanic as Tom had promised. He works from the garage of his home. It is spotless and everything has a place and everything is in its place. He takes a tool out and returns a tool to its spot. He confirmed my suspicion that we had a torn CV Boot. It had allowed the joint on the left front to dry up of grease thus creating the noise. He did give Lil' Scotty a thumbs up on her other systems then rode with us to a parts store to find the replacement axel. It was Thursday and they had the part but he couldn't do the work until the next Monday. Though our plan had been to hit the Flea Market on Saturday with Jose then head north we decided to wait and have the work done.

Yes, it was Thursday, November 28th, Thanksgiving Day in the good ole USA. That night we thought about Turkey, dressing and all the trimmings as we ate our Pasta. We got to the restaurant too early, as usual. The bar tender poured a glass of wine for us. The girl serving looked like she was 12 years old. When we struck up a conversation she surprised us, she was 19. That was only a part of the surprise, she was also Russian. Her parents had moved to Portugal to escape the difficult economy in Russia. They have been in Portugal for a year. She speaks almost perfect Portuguese but her Mom and Dad still struggle with it. They have to work as janitors so her income helps keep the family together. We did meet an interesting guy there. He was seated alone, next to us at dinner. When I asked him a question he indicated that he didn't speak English. He gave us his business card, Ramon Font Ortega is an Architect from Madrid, Spain working here on a project. Once we began trying to communicate in Spanish the English words began to creep into his conversation. Between Portuguese, Spanish and English we did get to know each other a little and share Thanksgiving dinner. He did know about Thanksgiving though they of course don't celebrate it here or in Spain. We capped our evening at 9:00 PM with a glass of Port at Sinatra's, a nightclub that doesn't start to groove until midnight. We missed the crowd but got a good picture.
Chief Inspector Jose Batalha
Jose had graciously offered to come out and pick us up on Saturday morning but we decided to drive in because it gives us more options. It's only 20 Km but traffic and finding our way around makes it a difficult trip. He waited for us at S. Mamede after he got off work at 8:00 AM. We were late, it was 9:30 when we finally got there. He pulled his car out and we parked Lil' Scotty and joined him. It was another Mr. Toads wild ride. He knows his way around but the tiny narrow streets with their one-way penchants really made it a work out.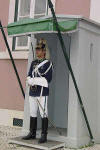 We spent two hours walking past every booth and stall, looking at every display. Most of the stuff was just as Aura had found it, just stuff. The same cast of characters were offering cell phones by the dozens but none had computers. Jose had us looking into bags as people walked by. No, not peeking but asking to look. Lots of guys walk around with a bag or two in their hands. When you show interest the fan the bag open to display a video cam or CD player. Clever marketing of secret goods but again, no computers. We had a great time and began to call Jose "Chief Inspector Batalha". When all avenues had been exhausted he asked us to tag along to the Café where Ruth works and say hello.

Ruth got off work at 1:00. Christina works at a meat shop just across the street and came to say hello. Jose invited her to tag along but she needed sleep, she had just danced another night away. So the four of us set off for lunch at one of Jose's favorite spots back in Estoril. The place has antiques and rare junk hanging from the ceiling and was full of people when we arrived at 2:00PM. The meal and house wine met Jose's description. We had meats, pork and beef, flambéed in a boat shaped dish. We had a wonderful afternoon and no one wanted it to end. When Jose suggested that, since we had to wait until Monday to get the car fixed, we should go to their favorite town, Nazare, tomorrow. When I thought of driving two and a half hours to get there then just turning around and retracing the 120 or so Km that same afternoon I said, "Hey, why not just grab a few cloths and go this afternoon?"

The Table's on Fire!
That question led to heated discussion and finally the most spontaneously fun weekend ever. It was like being kids again. It was total freedom, why not we asked? Since no one could think of a good reason we were on our way.
One Crazy Weekend!
It was cool, damp and almost dusk when we finally got there. We drank more wine and ate snacks at 3 different restaurants. A terrible food day but interesting. Jose kept ordering local dishes like tripe and hominy. It was similar to yet different from the menudo of Mexico that we used to cure hangovers in my grocery store days back in Boron.
While we were eating, Jose set out to find one of the Ladies in Black who rent out their homes for a day, week or month. Usually it would be impossible to get a place for just one night but this was low season, He returned with a key in his hand and a smile on his face. We had a home for the night.
Jose and Ruth wanted to keep the party going but Cat and Pat were tired and had had enough to drink. We took the room on the top floor. It was cold but there were six blankets on the bed. They were heavy but we loved the feeling and the warmth.

Jose had said that the Lady in Black would be waiting at the door by 9:00 AM. We were up early and I heard a noise downstairs. I went down and peeked out, the Lady in Black peeked back at me. She said something in Portuguese, I told here I only spoke English but Jose would pay when he woke up. She smiled and continued to stand just outside the door. In fact she waited until we were packed and ready to leave. When we stepped out the door she stood with her hand out. Jose paid and gave her the key then she warmed to us. She showed us her several skirts and we took a picture together. Jose was proud to have called it right, that she would be there by 9:00 AM. He told us that even in the summer, if you come in late, she or one like her would find a place for you, even if they had to give up their own home and move in with a relative.
Nazare was everything that Jose had promised. It's definitely a classic coastal fishing village. The only problem with low season was that most of the places were closed on Sunday morning. We didn't really want to shop but we were all hungry for breakfast. It would be coffee and sweet rolls but it would get us by.
The funicular up is a normal ride but at the top you find a spectacular sweeping view. There are small shops and street vendors. All, as Jose had gleefully told us, sold various items always with a penis on or in it. Cups with what Jose calls a pili inside, staring up at you. Teakettles with a pili spout, you name it they had it.
The church at the top is large and dominates the huge open square. There is an old chapel at the hillside with a story inside about a hunter who was chasing a deer on horseback when it leaped to its death over the cliff. The rider began to pray and according to legend the Virgin Mary stopped the horse and held it from going over. Jose translated and several building tiles told the story in pictures.
But it was the view, that spectacular view, that made the trip up worth the time and 2€ each. We spent more than an hour just walking around and enjoying it in a veiled but warmer sunny day. Jose stopped another Lady in Black and asked her why they wear 7 skirts. She talked for a long time then Jose said, "She really doesn't know why, just a custom perhaps, and she even speculated it may be to keep the lady from showing her stuff when she is bent over, working?"
We were soon back in the car and driving toward another favorite place of Jose's, Caldas da Rainha. There was a Sunday Marketplace in mid swing when we got there. We walked around and enjoyed a warmer afternoon. They had the usual fruits and vegetables as well as rabbits and chickens. We had failed to take any video at the Flea Market in Lisbon. I was a little afraid to take the camera out in that cast of characters so we did a little video about Chief Inspector Jose Batalha.
| | | |
| --- | --- | --- |
| | | 041 Chief Inspector Jose |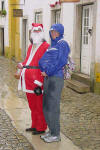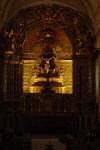 Because it is so special, Jose wanted us to see Obidos, an ancient walled village on the hillside south of Caldas da Rainha. It was raining and cold but we wanted a look. He dropped us at the gate while he and Ruth waited n the car. We walked the tiny winding streets and loved the feeling of the place. The Castle is a Hotel, a very expensive Hotel, beyond our budget. There were other Hotels, in fact we even found one with a secure garage. We thought we would come back and spent a night here on the way north. As we walked down one of the quaint cobbled streets we came upon a pregnant woman Santa Claus. An interesting site and an interesting picture.
Our next stop was for lunch at another of Jose's favorite places. It is in the countryside and amazingly, we had a hard time getting a parking place. The place is famous and when they served it was easy to see why. Another fantastic meal, Javalina, wild boar and Carne Asada. The Carne Asada was nothing like we had seen in Mexican Restaurants back home. Another feast, Jose knows how to eat and drink. We were slightly reserved with our wine drinking but had to have some.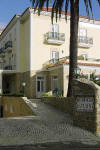 Stuffed to the gills, we waddled back to the car and Jose rolled back into Lisbon. When he dropped us at Sao Mamede it was another emotional goodbye. We have promised to keep in touch. As he put it, "I don't have a computer so how's about a call once a fortnight or so?" The hugs and kisses made a complete round in the crowd. They stood and watched as I ground Lil' Scotty's starter. She was slow to fire up as she had been sitting idle for two days. We watched them grow small then disappear through the foggy rear window.
The bikes had been safely in repose in the garage at Residential Smart. We spent the hour it takes to replace them on the rack the next morning and prepared to start out toward France. The Hotel was vacant save for us. The family was sort of lurking around the desk as we came down for breakfast. They became talkative as we checked out. They told us they were closing Residential Smart for 10 days. They were treating themselves to a vacation on Madeira, a tropical Island off the south coast. We couldn't tell if they were happy to be going or happy to get rid of us but they were happy.
December 2 to December 8, 2003
North toward France
It was Monday morning, I called Manny as agreed and he told us the sad news that his Mother had passed away on Saturday so he wouldn't be able to help us until Wednesday. We told him we would move on and asked if he know any mechanics along our route. He was straightforward and honest, as usual. He told us what it should cost and what we should expect then wished us well. Cat was a little disappointed since we could have moved on but agreed that the weekend with Jose and Ruth made it well worth the wait.
We had agreed that Portugal had made us anxious to get into France. Not just the wine and food but the cultural difference, too. Our plan was to drive to Porto and on into Spain across to France near Bordeaux. From there we would travel along the northern edge of the Pyrenees Mountains, perhaps all the way to Italy? We were loose and liked it. The weather was cool but sunny as we pulled up the drive way and away from Residential Smart.

After an hour at the Internet place and a stop the market for supplies we got an afternoon start. As we drove we thought about Obidos but finally decided to press on a little further. We had been trying to stay on the small roads but after circling twice we decided to pull up onto the expressway. We had seen several highway police cars and officers at the on ramp but thought nothing of it until they waived us over. Another few tough minutes of language problem then the officer in charge used sign language to let us know that our bikes are covering the license plate. The reason they are tough on this issue is because they use cameras to enforce speed laws and they wouldn't be able to see the plate. It was an automatic15€ fine that we could pay at the Post Office after 15 days or at MultiBank at any time. (At home we would have gotten an equipment violation, there is no fine if the violation is corrected. Here, you must correct and pay!)
Well, we have now been run over by a truck, pick pocketed, robbed and ticketed yet we still love Portugal.
It was almost a drizzling dusk when we pulled into Alcobaca. The Hotel with parking also had a room with a view of the huge Monastery. Darkness, rain and cold kept us close to the Hotel, in fact just around the corner, for dinner.
On the way we met an interesting, artistic woman. She has just opened a small shop that contains some of her work and work of others that she likes. We loved an antique looking wine flask. The lady and her husband worked hard trying to communicate. They even had Cat working out her limited French vocabulary. We explored every avenue we could think of that would get it home in one piece. In the end, we just looked and enjoyed the conversation with her. Cat sung out, "Merci", as we exited.
The origins of the Monastery date from the 12th century. There was a time when almost a thousand brothers worked the land and prayed here. It was a strong center of commerce then. Today it is only a tourist curiosity. The architecture was well worth the walk through. The kitchen actually had water transported in via small aqueduct to pool where fresh fish was kept. Amazing!
One of the extraordinary stories is of Dom Pedro, the son of the King, Dom Afonso IV, who fell in love with Dona Ines, his wife's lady-in-waiting. Even after his wife died King Afonso IV forbade him to continue the relationship. In fact some of the court worried that the influence of her Spanish family would bode ill for Portugal so they convinced Afonso to have her killed. He wasn't aware that Pedro and Ines had already been secretly married. That was in 1355. Two years later when the Father died and Dom Pedro ascended to the throne he took his revenge by ripping out the hearts of her killers and eating them. His imposed penance for the rest of the court was almost as brutal. He had Dona Ines' body exhumed and made all of the courtesans kiss his Queen's rotted hand. Their bodies now lay in Alcobaca, foot to foot waiting for the Day of Judgment so that they will see each other as soon as they rise up.
The Internet Café adjacent to the Hotel was our morning sport. I worked up an article for Diarias de Notarias. We had been talking with, actually pushing the paper to do an article. The nice lady there, Elena, had suggested the Society Editor. When I spoke with her she directed me to a guy. We weren't able to connect until he finally left an e-mail for us. I talked and he listened intently then when I told him it was probably too late because we were already driving north he suggested that we meet with a colleague of his in Leiria. That was exciting enough for us but I feared that we might have a hard time with language. So, I decided to write the story of our loss and effort as well as some of the details of our Odyssey. It wasn't easy, the computer decided not to print once I had completed the work. There were several guys watching a soccer game, they all became interested and eventually involved in the problem. Finally a very intense fellow took over and the printer finally spit out the three pages.
The guy in Lisbon was supposed to e-mail us with the time and place we would meet his associate in Leiria. We walked through the Monastery then drove north. Along the route we happened upon the Musea Nacional Do Vinho. Of course we had to make the stop. The best of it was the 1939 Harley Davidson. We did walk through and read about the areas in the hope of finding the best bottles.
Port3 001 Cat at the Vat
After a leisurely lunch I called the guy at the newspaper, as a last effort. He was shocked that I wasn't in Leiria meeting with Jacinta. Hadn't we received his message? No, and we never did. So we set off from Batalha like bats out of hell. I told him that we would be there in half an hour. He gave me Jacinta's cell phone number just in case. We were in Leiria in a half hour but then we struggled with the crazy pattern of one-way streets for another half hour. Finally we double-parked like all the locals and Cat ran into the Tourist Info Center. The Shopping Market where we were to meet her was just across the street. The center was new and had underground parking. We reluctantly left Lil' Scotty under the watchful eye of the security guard and looked for the reporter. Finally a gal in the restaurant tried to explain where the nearest phone was then gave up on my ignorance and walked me there. The call was successful, she was there in just a few minutes.
As we had feared, there was a language difference that hampered the interview. Thankfully the guys back in Alcobaca had printed our story. Even after I gave it to her she continued to ask questions. Most of the answers were in the story but we covered them anyway. I showed her the picture we had of Rose Marie helping us hang the flyer. She liked it because it had the newspapers name above our heads. I told her that I would try to get a copy of it and one of us in the snow in Finland e-mailed to her. We sat in her car as we talked and the rain poured down from the darkening sky.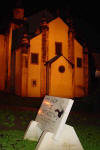 It was now dark and wet so we took a Hotel that Jacinta had suggested. It was outside our budget but close by and easy to find. At the desk we met a guy from the US. He was here on business. The next morning he was near us at the included breakfast so we did get a conversation with him. He works for one of the large appliance makers and is here because they have all of their molds for the interiors of refrigerators and washing machines made here. There is a small village that had been making molds for hundreds of years for bronze and other metals. It was a natural for them to make the move to high-pressure injection molds for plastic. He comes every year and spends three or four weeks here. His happiest comment was that he would be home for his wife's birthday and Christmas.
We met Jacinta again the next day at the Community Internet Room. This would be a boon for us as we learned that most cities have them and they are free. I showed Jacinta our web site and explained the details to her while Cat checked our e-mails.
As she drove away I realized that we hadn't taken a picture with her. I called the cell phone and told her we would come by her office but she was busy and declined. She is an almost too nice person to be a hard-hitting reporter. Maybe her status as the single Mom of a 10-year-old daughter makes her more reserved than she might otherwise be? She did promise to send us a copy of the article if it was published.
In our haste to meet Jacinta we had passed the opportunity to visit Fatima. Who hasn't heard of the place? We were curious so we decided to loop back and see it and Batalha, the town Jose jokingly says was named for him. At Fatima we had to park in an open area and leave Scotty unattended. Oh God, we thought, how could someone possibly steal from us in this Holy Place? The story of the three kids who, back in 1917, saw the aberration seems to have ballooned into something really big. I wondered if it might have been three kids who were late for dinner and made up the story? Religion has never been my strong suit. I don't know how these things are authenticated but the resulting trappings are impressive. We watched as a woman walked along on her knees from the street to the base of the monument. There was a mass being presented in English and a small crowd in attendance off to the left. The clouds parted for a short time and sun shone brightly on the golden crown atop the church spire. All very interesting!

Fatima Kids


Organ de Fatima


Bells of Fatima
(There is a very interesting note in our Lonely Planet Guidebook. The Virgin Mary told Lucia, the 10-year-old girl that the faithful should pray a lot and make many sacrifices in order to secure peace. The second thing was that if her request was heeded the Russians would be converted and there would be peace. (Remember, this was 1910, just before WWI.) The third message remained a secret, handed down from Pope to Pope until the year 2000. In front of a crowd of more than half a million people at Fatima Pope John Paul revealed that the secret was that there would be an attempt on the Popes life in 1981. Of course there was and at that time Pope John Paul had suggested that Our Lady of Fatima had saved his life. In fact when he recovered he had the bullet that was removed from his body welded into the Virgin's Statue at Fatima.)
We were just dawdling along, enjoying the afternoon. The next big monument to Christianity was a fantastic church in the town that Jose used to tell his kids was named after him. In Batalha we had lunch and a walk around the huge statue of a knight on horseback then through the fantastic columns and crypts. It is said to be one of the best examples of Gothic-Manueline architecture. Manueline was an architect of the sixteenth century who was revered at the time. Known as Mosteiro da Batalha, (Batahla Abbey) it is gigantic. It is bold in its ornate ness and flamboyant beyond description. It was built because of a 1385 AD battlefield promise of Dom Joao of Avis. Had his small army been defeated the Spanish would have taken Portugal. It was completed in Gothic style in 1434. The Manueline upgrade and additions occurred during the 15th and 16th centuries. The Capelas Imperfeitas, unfinishied Chapels at one end are truly fantastic. The doorways and columns are covered with intricate carvings flowers, snails and twisted things. Originally planned to have a roof, it was never completed. The marble floor was slippery, I almost fell while taking a little video.

Tour de Mosterio

Slipsies in the Abbey

Tour Two
It was late afternoon by the time we started toward Coimbra and dusk when we arrived. The rain had stopped but it was cold and blustery. We found a very good deal at the Hotel Ibis, secure parking and a 45€ rate that included breakfast. We walked the main pedestrian street looking for a roast chicken restaurant, to no avail. A woman in the Kodak shop who was busy taking and printing Christmas pictures for families told us that there was nowhere in Coimbra where we could print a picture from our mini CDs. The street decorations of Christmas added little heat to the cool evening air. Well, it is December and winter is nye.
| | |
| --- | --- |
| | |
Thursday December 5 was a bright and sunny morning. We decided to take a short jog. Though it was cool we wore shorts and ran across the bridge then along the Rio Mondego. The exercise was a little stop and go due to the on again off again sidewalks and paths. We came back across the downstream bridge. It was a real challenge because we had to be in the oncoming traffic lane. We walked back down the pedestrian street and stopped at a coffee place and had muffins and good strong café con leit. There was a young nervous looking guy sitting nearby. He stirred and sipped in the customary way but he kept his cell phone in his ear most of the time. When he left he still had the phone and a conversation going.

Two doors down we found another camera shop and decided to give them a try. There he was, the young guy from the Café. When we asked Jose, said yes he could do it but at their other store. He walked us down the street and into the very same shop past the very same woman who had told us it was impossible.
Jose and his assistant took the CD into the backroom. When he reappeared he told us that they would have to get a different cable so it would be this afternoon before they could print or e-mail the pictures. We were elated, the woman at the front desk seemed to display an attitude of disbelief. We found a laundry close by and off loaded our load of dirty cloths. Then we went questing for a trailer light set to hang across the back of the bikes like the officer and Aidan had suggested. There are several auto parts stores, one was even on the second floor of an office building. Each place sent us to another place. Then it was lunch hour and of course they all closed. Finally we found the one that had exactly what we needed. Surprise, it was only 39€.
Back to the Kodak Store and Jose, they had purchased a USB cable but were still having problems getting the pictures. Then I wondered if I had finalized the disk. Checked and of course, all the work and the cable were worthless, we could copy direct from the mini CD in the desktop. They had the picture and e-mailed it to Jacinta in no time. When we tried to pay Jose refused. He said this was a good experience for them. The lady, who was still working the counter, had begun smiling as we passed. Now we knew that she had been right, they didn't digital photos yesterday but now they do. We even offered to buy the USB cable but Jose insisted that they would need it in the future.
The weather continued to cling to cool and cloudy but the sun shone through enough for us to take another little jog/walk the next morning. We went to the same coffee and sweets place on the way back in and caught Jose there, stirring and talking into his phone. We asked if he knew a mechanic. He had a friend, Nuna, who spoke English and would be able to help us with the license and check the front end of Lil' Scotty. He called him as he stirred and confirmed that Nuna was in and would take a look at our problems. With the same precision that he stirs and solves computer problems, Jose drew a map to Oficinas Almerindo, his shop, that was quite good.
We found the place and met Nuna who looked more like a businessman than a mechanic. They had a large shop, he and his Father, Almerindo. Nuna was the manager. He had one of his men listen to what we wanted then he went to work, taking the license plate off the car. Nuna came out and asked what we were doing. When I told him that we wanted to be able to hang the plate on the back of the bikes but put it back on the car when we don't have the bikes on board. Nuna took one look and said, "Why don't you let us get you another license plate? You can leave the original on the car and the other on your light bar."
"We only have today and I'm sure it would take too much time to get a new plate," I answered.
"No," he said, "you come back at 3:00 and we will have it for you."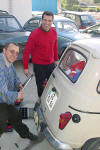 Sure that it would be cost ineffective we were shocked when he said they could do it for 6€ but would need 10 to pay for his guy to pick it up. We couldn't believe it. Nuna confirmed Manny's diagnosis that the front-end noise was due to the broken CV boot and the axle would have to be replaced. That would take more time. It was Friday and we would have to wait until Monday. We didn't want to sit around so we asked him what the consequences of driving on would be. He thought we would be okay but it would have to be done fairly soon. Our friend, Michael back in Sacramento says that we always seem to find great people wherever we go. In Coimbra that would be a couple of guys, Jose and Nuna.
We picnicked in the park while we waited. Cat has been paranoid about pickpockets and it didn't help much when a strange, almost homeless looking guy came to the bench we were seated on and sat at the other end. There were several empty benches yet he chose ours. We tucked our belongings in, hunkered down and ate while keeping a wary eye on him. We may have been wrong or we may have just foiled another bad guy?
Almost forgot but it is worth noting here that we did find the Community Computer Center in Coimbra. It is a well-equipped spot with 20 or so machines. We visited twice and picked up e-mails. The staff was nice and helpful, too but they do have to waive you off after your hour is completed. There are almost always people waiting, in fact they encourage you to reserve. We ran over by at least a half hour once and they only asked us to give up the machine when a new visitor entered. We did like watching a Grandmother who brought her Grandson to play video games. He was slightly challenged mentally but absolutely loved the thrill of the game. She in turn loved watching him have his fun.

Pigeons and Chestnuts

Practice, Practice, Practice
With the car and pictures completed we were free to roam, sight see and move on. We decided to walk up to and through the University rather than jog. It was good exercise and a great place to visit, too. While there we fell witness to another wedding. The Bride arrived in a classic MBZ.
There was an alumni thing of some kind going on. It took tickets to get into the buildings. We just brazenly walked in and made all but one. The main courtyard is dominated by the clock tower. There was a temporary plastic tent in place due to construction. Vasco da Gama towered above it, in his knickers covered with black stains and pigeon do. A statue of Minerva stands with her back to the square.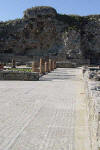 Back down the hill, we decided to grab some food for another picnic and move on. Conimbriga is just 16 Km up the road. We decided to picnic and visit the Roman Ruins there. It was cold and a little windy so we just ate in the car then walked the ruins. Sometimes it is good to just walk, touch the stone and think about the lives of those who built and lived in this place more than 2000 years ago. One of them could have been a forefather or foremother? Well if Franklin can be related to the Portuguese almost anyone can, right?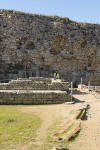 The place has had some reconstruction but remains ruins. They have maps but they were a little confusing. On the site are several examples of the Roman's mosaic flooring. There were three areas that were being worked on like a big puzzle. They have the pieces, those that have remained on the site for 2000 years. Inside the adjacent Museum are lots of tools, cooking and clothing items, glass and metals, buttons and baubles. We were our normal quick study visitors.
It was Saturday afternoon when we arrived in Porto. We were happy that traffic wasn't a workday rush hour. It was almost gridlock on every street and we only added to it with our indecision. After making the rounds and wrong turns several times we finally double-parked like locals while Cat shopped for a room. The Holiday Inn Parking was public. Nearby was the upscale branch of the same Hotel Chain we had just stayed at in Coimbra. It was beyond budget but a really nice place. It did include secure parking, it was getting late and our temperaments were strained, we took the deal.
The wonderful pedestrian shopping street was just out the door. We walked, enjoyed the festive feeling as we looked for a restaurant. Families shopping and enjoying the lights. We came across a group of College guys, probably a Fraternity, playing guitars and singing Christmas Carols. It was enough to finally get the Holiday spirit flowing for us. We ended up drifting back to the Hotel and a tiny Chicken Rotisserie place. It seems to be our favorite Portuguese food. The place was a little dreary and filled with cigarette smoke but the chicken, Esta Bein, as Franklin would say.
| | | |
| --- | --- | --- |
| | | 177 College Carolers |
| | 118 Street and Steeple | |
| 130 Bridges of Porto | | |
Porto, the City, is the reason for the name of the country, Portugal. I think I read that her real name is Oporto but only tourists call her that so we won't. It is a port city at the mouth of the Rio Douro. It is also the port made famous by Port Wine. The fine red that is fortified with a bit of distilled to increase its punch. The city tumbles down both of the steep banks of the Douro and the building cling to her banks. There are several big bridges that connect her, north and south. In fact we drove over at least two as we struggled to find our way in.
This little short story is another lesson in language. We had a bottle of white wine and decided to open it and have some before dinner. There was only one glass in the bathroom so Cat called the front desk and asked for a glass. Well, after a few attempts she changed the request to "cupo" which we thought might mean glass. When the young man appeared he was holding a coffee cup. We laughed, he was curious, we explained in sign language. He offered to take it back and bring a glass. We loved the cup idea so we drank from it freely!
Sunday and a very slow day in Porto, most of the stores are closed. We had our morning coffee then hit the Internet at the Holiday Inn, again. Yes, our Hotel has parking but no computer. They have an arrangement that allows us to check in at the Holiday Inn but at no small price.
We did find the Tourist Info Center buried midst the booths of people buying and selling coins and stamps. We had to make our way through the same kind of fervor a block earlier but they had birds, fish, cats and dogs for sale. The gal was really nice and put together the route of our walking tour de Oporto. We visited all treasures, churches and monuments then lunched on the Rio in the old area. Though it was sunny we sat inside because it was still cool and breezy. It was here that we made our next itinerary deviation. Why kid ourselves, it is cold and wet and it will only get colder and wetter as we move toward the north. With all of our maps spread out on the bed we made the decision to forget France, for now, and head west into Spain.
Monday December 9, 2003
A New Direction, West, SouthWest!
Another cold and wet morning as we walked to coffee. On the way back we hit the Holiday Inn for our Internet fix then checked out and worked our way west, along the Rio Douro, out of Porto. The river runs swift toward the Atlantic, as we moved upstream we incurred the ups and downs of the riverside. Lunch in a local's only café in a small town then we really got into the ups and downs. Slowly, ever so slowly, Lil' Scotty worked her way over hill and dale. We felt like we had gone hundreds of miles but we actually only come about 60 Km. Maybe driving Lil' Scotty is like riding bikes, you have to count the vertical rise as well as the distance?
We stopped and ran through the rain to the tourist office in Olievira do Douro. They offered the advice that there was no secure parking but we would find a gated Hotel just 7 Km further along at Antigua De Porto. Even in the rain it was a beautiful place. We met the lady on the desk and Joao, another Joao who could speak some English. He agreed that we could pull Lil' Scotty inside the gate and park under our window. We worked her in close and covered the bikes with a piece of plastic he found in the maintenance room. It was a strange evening. We were the only guests. The room was only 39€ and it was huge. We had a terrific view of the lake, the village across and Lil' Scotty. In fact we had everything except heat. Joao came up twice and worked with the thermostat, to no avail.


Dinner was another lonely treat. Joao also doubles as Bellman and head waiter. The food was actually pretty good considering and Joao's service was great! He was really a nice guy sort of trapped in a tough situation. Physically he looked like Peter Lorrie. In his waiters suit he looked and walked like a penguin.
We were pleasantly surprised by the addition of a heater, the kind like they put in out room in Ostersund, Sweden. It was on my side of the bed and that wouldn't do. We pulled the furniture away from the wall and rerouted the cord so that it would warm Cat's side. One of the problems with a grand room and huge windows across the front overlooking the lake is COLD!
Breakfast, that was included in the 39€ price was again served by Jose. He must live in the Hotel? It was very good and we enjoyed it in the ambience and alone, again. From there it was all up hill and down hill again. Majestic, scenic, into then back under the clouds. Terraced hillsides that roll down 1000 metres to the river covered with vines and fruit trees. It would also be another day of tough driving and short distance. By late afternoon we had only driven 100 Km. A lot of stop, start and picture taking as well as constant roadwork and flagmen.
Close to the border or as they say, the Frontier of Espana, we pulled up at Vila Nova de Foz Coa. It's only 25 Km from the Frontier but we weren't sure there would be places to stop on the other side. We checked with the Tourist Office and finally chose a Youth Hostel that is a little way from town. It was okay and the price was reasonable but nothing will seem reasonable again after last night. The room was plain and there was no TV. They did have a computer so we spent time reading and writing e-mails. Dinner at "Dallas", the recommended, the only Restaurant that was open. Again, it was okay but the place was cold. They did turn up the heat when they saw that we were shivering. Nuna had urged us to try "Gambas", small lobster in a rice pot. It was great, rich but great. Well, that's what Antacids are for.
Our included breakfast was one of the worst we could remember. Bread and coffee, the bread was stale and the coffee was instant. We did have a sunny day going and we would be in Spain today, so it wasn't all bad.
One of the "must see" sights was Parque Vale da Coa, where they have found Paleolithic drawings dating back more than 20,000 years. We almost passed on the deal because you have to join a group. The photos in the headquarters and two available seats made the deal for us. No one is allowed in the park unescorted. It is a treasure they guard with a passion. Our 10:30 AM group would be all Portuguese with the exception of Pat & Cat. Antonio, the guide did speak English and he was a really personable guy.

Imagine, just a couple of days ago we marveled at the feeling of touching places where people had lived, worked, raised families and survived 2000 years ago. Antonio took us over bumpy roads that clung to the side of small mountains and into the valley of the lost and found. Here we could view but he was careful to explain, not touch the scratching and chipping on rock made by people, living, hunting and gathering here up to 30,000 years ago. The evidence of their being is measured by just a few rock drawings but they were here. Maybe they knew that we would some day see their work? Primitive but dealing in reality, they tell the story of a tough life. Antonio and his colleagues believe that the stories are of hunting and killing large game. Bravely killing for food that would feed the group for several days. He thought that the great hunter would try to tell his story on the rocks. I wondered if maybe the hunter was great at hunting and he paid the artist to draw the moment. Perhaps these hunters were the first Patrons of the Art?

Paleolithic Pathfinder

Paleolithic Pathway
The cold continued as we drove across the Frontier and into Espana. We were on the outskirts and in sight of Salamanca by 5:00 PM and it was a sight to behold.
---
So with only 14 shopping days until Christmas we have given ourselves the gift of warmth and sunshine. We will turn southward and find a place away from the rain and cold wind. We'll cross the heart of Spain visiting several wondrous places along the way. It's more difficult to meet people when traveling in Lil' Scotty but we will. The next chapter will also be our turning point, the moment when we point Lil' Scotty north and begin our sojourn back to Helsinki, Finland.
STAY TUNED!!